---
CAM High Yield Weekly Insights
(Bloomberg)  High Yield Market Highlights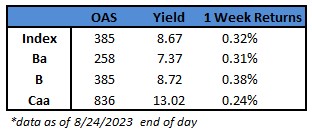 (Bloomberg)  Powell Signals Fed Will Raise Rates If Needed, Keep Them High
Federal Reserve Chair Jerome Powell said the US central bank is prepared to raise interest rates further if needed and intends to keep borrowing costs high until inflation is on a convincing path toward the Fed's 2% target.
"Although inflation has moved down from its peak — a welcome development — it remains too high," Powell said in the text of a speech Friday at the US central bank's annual conference in Jackson Hole, Wyoming. "We are prepared to raise rates further if appropriate, and intend to hold policy at a restrictive level until we are confident that inflation is moving sustainably down toward our objective."
The Fed chief welcomed the slower price gains the US economy has achieved thanks to tighter monetary policy and further loosening of supply constraints after the pandemic. However, he cautioned that the process "still has a long way to go, even with the more favorable recent readings."
At the same time, Powell suggested the Fed could hold rates steady at its next meeting in September, as investors expect.
"Given how far we have come, at upcoming meetings we are in a position to proceed carefully as we assess the incoming data and the evolving outlook and risks," he said.
The remarks were in line with Powell's character and communication for all of 2023: He is singularly focused on the mission of restoring price stability, and further tightening remains on the table to get back to 2% if necessary.
Policymakers are entering a new phase of their campaign to bring inflation back to the Fed's 2% target. After aggressive interest-rate increases in 2022, Powell and his colleagues have slowed the pace this year, and signaled they may be close to wrapping up rate hikes. The question now is how long they hold at a restrictive level and how the economy performs under those conditions.
Officials raised their benchmark rate last month to a range of 5.25% to 5.5%, a 22-year high, after skipping a rate increase at their June meeting. Their most recent projections had one more rate increase penciled in this year.
Powell signaled Friday that policy has shifted to a more deliberative phase where risk-management is now "critical."
He noted the economy may not be cooling as fast as expected, saying recent readings on economic output and consumer spending have been strong. The economy grew at a 2.4% annualized pace in the second quarter, a surprisingly robust reading that prompted many economists to boost forecasts for the third quarter and reconsider odds of a recession.
"Additional evidence of persistently above-trend growth could put further progress on inflation at risk and could warrant further tightening of monetary policy," Powell said.
He also pushed back on speculation that the central bank could raise its inflation target, an idea that has been hotly debated mostly by academics in recent months. "Two percent is and will remain our inflation target," he said.
This information is intended solely to report on investment strategies identified by Cincinnati Asset Management. Opinions and estimates offered constitute our judgment and are subject to change without notice, as are statements of financial market trends, which are based on current market conditions. This material is not intended as an offer or solicitation to buy, hold or sell any financial instrument. Fixed income securities may be sensitive to prevailing interest rates. When rates rise the value generally declines. Past performance is not a guarantee of future results.