---
CAM Investment Grade Weekly Insights
Investment grade credit spreads were generally tighter to start the week and then drifted wider in the second half.  The Bloomberg US Corporate Bond Index closed at 134 on Thursday August 18 after having closed the week prior at 132.  The 10yr Treasury closed last week at 2.83% and is trading at 2.95% as we go to print on Friday morning.  Economic data painted differing pictures this week.  The Empire Manufacturing survey on Monday was absolutely dreadful and caused investors to ponder the impact of slowing growth in an economically important region.  Housing starts declined for the sixth consecutive month and mortgage applications came in lighter than estimates.  On the bright side, July retail sales showed some encouraging signs.  Fed speakers throughout the week did their best to remind investors that they will do whatever it takes to lower inflation to 2%.  This is not an opinion piece, but since you asked, it is our view that the market is much too complacent about the Fed and there seems to be this prevailing belief that the Fed will be ready and willing to immediately slash the Funds Rate in 2023 at the first hint of economic weakness.  We simply disagree with this view and believe that the Fed is willing to inflict pain on equities and riskier assets in its quest to quell inflation. Through Thursday the Corporate Index had a negative YTD total return of -12.23% while the YTD S&P500 Index return was -9.22% and the Nasdaq Composite Index return was -16.69%.
Primary issuance was in line with expectations this week as more than $22bln of new debt was brought to market.  As pointed out by Bloomberg, this was the fifth week in a row where actual volume met or exceeded concensus expectations, a good sign for the health of the primary market.  Issuance will likely slow significantly until after Labor day at which point we expect substantial issuance if investors remain receptive.  There has been $912bln of new issuance YTD which trails 2021's pace by 5% according to data compiled by Bloomberg.
Investment grade credit reported a fourth straight week of inflows.  Per data compiled by Wells Fargo, inflows for the week of August 11–17 were +$3.9bln which brings the year-to-date total to -$111.7bln.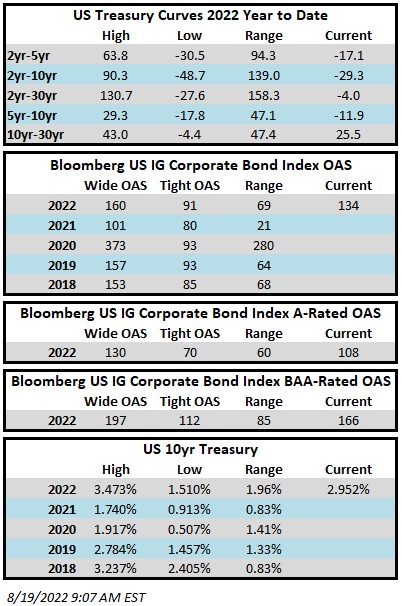 This information is intended solely to report on investment strategies identified by Cincinnati Asset Management. Opinions and estimates offered constitute our judgment and are subject to change without notice, as are statements of financial market trends, which are based on current market conditions. This material is not intended as an offer or solicitation to buy, hold or sell any financial instrument. Fixed income securities may be sensitive to prevailing interest rates. When rates rise the value generally declines. Past performance is not a guarantee of future results.