---
CAM Investment Grade Weekly Insights
Spreads barely budged during the week.  The OAS on the Blomberg Barclays Corporate Index closed Thursday at 88, which was unchanged from the week prior.  Spreads remain near their tightest levels of the year across the board.  The biggest surprise this week was the payroll data that was released this Friday morning.  According to Bloomberg, the April employment report was the biggest disappointment on record in terms of downside with only 266,000 jobs created versus the consensus forecast for a 1 million job increase.  The initial reaction sent the 10yr Treasury 10 basis points lower, but those gains were quickly pared sending rates back closer to unchanged levels as we head into the Friday close.  Interestingly enough, past experience has shown that a payroll miss often leads to lower equities but stocks are higher as we go to print, with the prevailing thought that a protracted recovery will lead to continued Fed accommodation which investors read as bullish for risk assets.   Through Thursday, the corporate index had posted a year-to-date total return of -3.10% and an excess return over the same time period of +1.17%.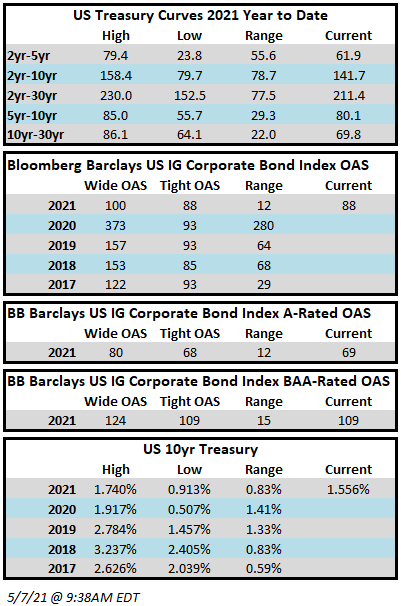 Issuance is starting to pick up as companies work through earnings and $25bln in new debt was priced during the week.  This was a bit of a light start given the high expectations for May, with consensus estimates looking for $150bln by month end.  Strong investor demand has led to narrow concessions across the board.  According to data compiled by Bloomberg, $573bln of new debt has been issued year-to-date.
Per data compiled by Wells Fargo, inflows into investment grade credit for the week of April 29-May 5 were +$7.2bln which brings the year-to-date total to +$149bln.