---
CAM Investment Grade Weekly Insights
Spreads are tighter to the tune of several basis points on the week while Treasury rates crept higher. The OAS on the Bloomberg Barclays Corporate Index was 110 on Friday morning after having closed at 112 the week prior. Spreads have continued to grind tighter throughout the day as we go to print on Friday afternoon and the close on the index OAS is likely to come close to touching the year-to-date tight of 108. Treasury rates are set to finish the week higher with the 10-year up 5 basis points on the week.
The primary market continued its October trend with another week of lackluster supply. Weekly new issue volume was just shy of $14bln pushing the monthly total to $39.5bln according to data compiled by Bloomberg. 2019 issuance stands at $963bln trailing 2018 by nearly 8% on a relative basis.
According to Wells Fargo, IG fund flows during the week of October 17-23 were +$4.4bln. This brings YTD IG fund flows to +$242bln. 2019 flows are up 9% relative to 2018.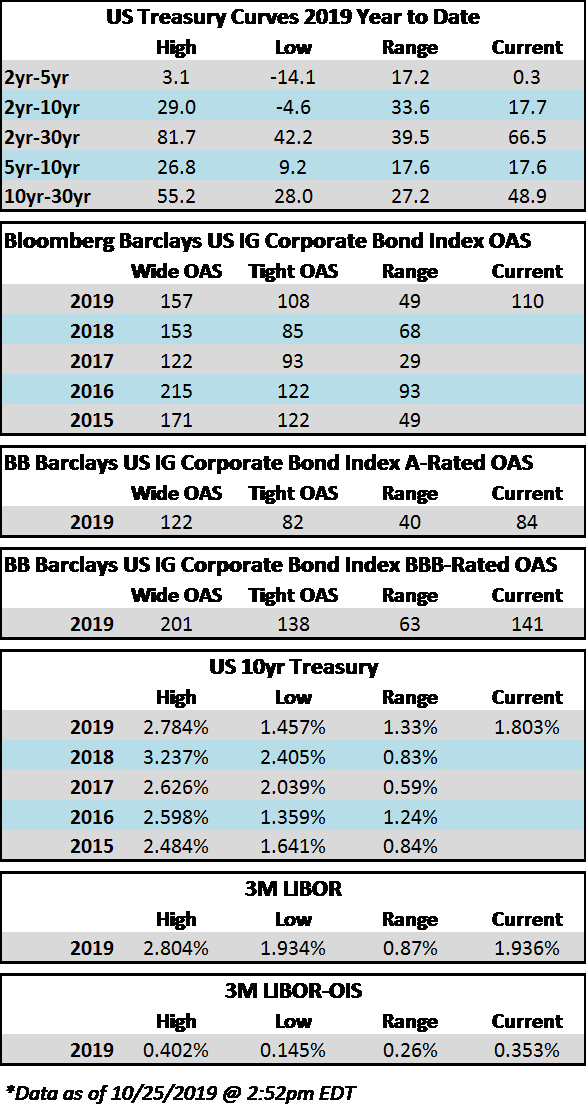 Bloomberg) Bond Funds Learn to Exploit Ratings System to Buy Riskier Debt
In today's low interest-rate world, investment-grade bond funds face an all-too-familiar trade-off: buy risky debt to improve returns or play it safe and underperform.
In particular, funds are loading up on bonds where ratings firms are split on whether they're investment grade or junk. While reasonable people can disagree about which one is right, for a growing number of firms, the answer is always the same: the higher one.
The practice has obvious advantages. With high-grade corporate bonds yielding less than 3% on average, managers can pick up an extra half-percentage point on split-rated debt. And funds can say they're invested in safe assets while running a portfolio that actually looks a lot like a junk bond fund.
Granted, managers have always had the discretion and the flexibility to choose which ratings standards to follow. The methodology is there for all to read in the fund's prospectus, though it's often tucked into the fine print. Then, there's the question of how much stock to put into ratings anyway. Many managers lean on their own analysis to determine a bond's credit risk.
That extra yield comes with a price. Historical data from S&P shows that lower initial ratings correspond with higher rates of default. The gap is notably stark in the divide between investment grade and junk. Ten-year default rates on bonds with BB ratings are double those with BBB grades.
(Bloomberg) Corporate Bond Syndicates Yawn Amid Sleepiest October in Years
S. investment-grade debt sales are expected to miss estimates for October — by a lot.
Just $39.5 billion of new debt has been sold as of Thursday, compared to initial forecasts calling for $85 billion. This projection, put together by compiling dealer estimates, was revised lower mid-month to around $65 billion and now even that may be a stretch.
Volume is the lowest since October 2013, when $41.9 billion of blue-chip company bonds was sold. There are still five trading days left, but that narrows to two when you consider Fridays are often blank, Wednesday is a Fed decision day and Thursday is Halloween.

The following factors likely play a role.
Big banks have been absent. Of the top 10 U.S. banks, just Bank of America Corp. and Wells Fargo & Co. have issued new debt, together totaling $10. 5 billion. Typically there is more, especially when financial institutions report better-than-expected earnings as Goldman Sachs Group Inc., Morgan Stanley and JPMorgan Chase & Co. have.
Earnings season. Issuers and investors want to see how well companies have been doing. Buyers want to know about the recent quarter and fourth quarter outlook, considering the geopolitical risks such as the U.S.-China trade war and Brexit
Muted merger and acquisition activity. It's widely understood that M&A issuance is down, but overall the calendar just seems lighter. Every once in a while there is a whisper about T-Mobile USA Inc., but at the moment that is looking more like a 2020 story.

Restart

Issuance will begin to pick up next week, albeit from a pretty low bar set in the last few weeks. Desks are expected to front-run the Fed and complete the bulk of next week's debt issuance on Monday and Tuesday.
There are a plethora of companies expected to report next week. The week after next, earnings will subside and with the bulk of the reports released, more candidates will consider selling debt. The first week of November is when the real ramp up should occur.
The fact that October is running about 54% behind estimates doesn't come as a surprise since actual supply has been missing weekly estimates for five weeks in a row. That trend is going to break as Wells Fargo's $6.5 billion deal catapulted this week to $13.7 billion, in line with estimates of $15 billion area.