---
CAM Investment Grade Weekly Insights
Spreads and Treasuries were range bound during the week and look likely to finish the week relatively unchanged.  It was a quiet week for credit which is unsurprising given that we are headed into quarter end.
The primary market kicked off September with its busiest week ever but the torrid pace of issuance has cooled considerably heading into month end.  Weekly new issue volume was $14.5bln pushing the monthly total to $154.9bln according to data compiled by Bloomberg, the fifth busiest month of all time.  2019 issuance trails 2018 by 3.9% on a year over year basis.
According to Wells Fargo, IG fund flows during the week of September 19-25 were +$2.9bln.  This brings YTD IG fund flows to +$216bln.  2019 flows are up 8.2% relative to 2018.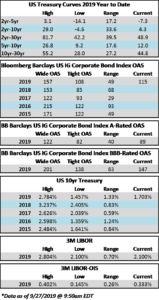 (Bloomberg) Sizzling Bond Market Draws Record Number of Blue-Chip Companies
This month has seen a record number of bond sales by blue-chip companies, incentivized by low interest rates and supercharged investor demand to refinance debt.
The market priced 127 deals, surpassing September 2017's 110 offerings as the busiest month, based on Bloomberg records began going back 20 years. Total volume of $154.9 billion is still short of the $177 billion record set in May 2016. But with two days remaining in September, sales are poised to be the third-highest ever.
The surge in supply came as a growing pile of bonds offer negative yields overseas, driving investors desperate for higher returns into the U.S. corporate credit market. It marks a rare spike in borrowing that's fueled by a broad-based rush to extend maturities, not driven by large M&A financing.
The first week of the month saw the highest weekly sales volume ever. Almost $75 billion was priced, led by bond sales for Walt Disney Co. and Apple Inc.
September is by far the most popular month for issuers, accounting for the top three months by deal count over the past 20 years. This month's 127 total high-grade sales compares with 110 in 2017 and 100 in 2016, the second and third busiest months over the past 20 years.
The average deal count for September over the last 10 years is 88.