---
CAM Investment Grade Weekly Insights
CAM Investment Grade Weekly
09/14/2018
The corporate credit market has had a positive tone this week and the majority of individual credits are at least 3-4 basis points tighter since the week began, while some higher beta credits are close to 10 basis points tighter. Ten year Treasuries are higher on the week and flirting with 3% as we go to print on Friday morning.
According to Wells Fargo, IG fund flows strengthened during the week of September 6-September 12 were +$2.7 billion. Short duration funds continue to garner the lion share of assets.  IG fund flows are now +$95.882 billion YTD.
Issuance on the week topped $27bln which brings the September new issuance tally to $81bln and the YTD tally to $853.934bn (source: Bloomberg).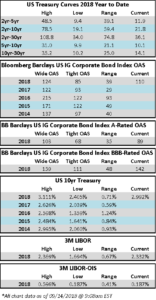 (WSJ) 5G Needs a Lot More Cell Towers. Some Residents Aren't Happy.
Residents of Denver's Riviera apartments were surprised earlier this year when a roughly 30-foot-tall green pole appeared a few feet in front of their building entrance. The pole, installed by Verizon Communications Inc. and laden with cellular antennas, was designed to improve cellphone service in the area, but the residents complained about the placement.
Months later, it was gone. But that was just a small taste of what's to come across the country: Millions of Americans will soon encounter similar poles or notice antennas sprouting on existing structures, like utility poles, street lamps and traffic lights, all over their neighborhoods. All four national cellphone companies are pushing to build out their networks with a profusion of small, local cells to keep their data-hungry customers satisfied and lay the groundwork for fifth-generation, or 5G, service.
Those plans face pushback in many places, and not just from residents. Officials in some cities say they don't have enough staff to process applications for dozens or even hundreds of new installations. In some smaller towns, officials say they lack the expertise to review the new technology, though they're working fast to get up to speed.
More than 100,000 small cells are already wired up across the U.S., according to industry research firm S&P Global . Cellphone companies plan to boost their capacity with several hundred thousand more cells to improve existing service and prepare for 5G service, which they see as a potential competitor for cable and fiber optics, among other things.
Some of the local resistance is rooted in how small cells work. Companies can usually find space on private property for large cell towers with a range of several miles. Small cells reach only a few hundred feet, so carriers need many more sites, usually on public land, for the system to work.
Cellphone companies don't have much choice if they want to keep up with their customers' appetite for data, says Jonathan Adelstein, chief executive of the Wireless Infrastructure Association, whose members include wireless carriers. "People wonder why they might be having a dropped call or slow video," Mr. Adelstein says. "Then they have a vocal minority that are ruining it for everybody" by opposing the expansion of cellular networks.
(Bloomberg Intelligence) Despite Florence, Progressive's 2H Looks Solid: Earnings Outlook
Progressive is on track to post robust EPS growth in 3Q after delivering strong results in both July and August. While September's catastrophe costs could rise from a year ago due to Hurricane Florence and any other events before quarter-end, this would likely be substantially offset by the more than $200 million drop in the company's August catastrophe losses vs. August 2017. Progressive has just 1% share of homeowners business in the Carolinas, which should help ease the impact from Florence.
Progressive's results continued to benefit from expanding underlying underwriting margins in August, coming in at 9.7% vs. 8.8% a year earlier. Year-to-date, this metric is up 160 bps to 11.8%. Written-premium growth remained robust at 17%, down modestly vs. July's 21%, but up vs. 16% in August 2017.
(Bloomberg) JPMorgan Predicts the Next Financial Crisis Will Strike in 2020
A decade after the collapse of Lehman Brothers sparked a plunge in markets and a raft of emergency measures, strategists at the bank have created a model aimed at gauging the timing and severity of the next financial crisis. And they reckon investors should pencil it in for 2020.
The good news is, the next one will probably generate a somewhat less painful hit than past episodes, according to their analysis. The bad news? Diminished financial market liquidity since the 2008 implosion is a "wildcard" that's tough to game out.
The JPMorgan model calculates outcomes based on the length of the economic expansion, the potential duration of the next recession, the degree of leverage, asset-price valuations and the level of deregulation and financial innovation before the crisis. Assuming an average-length recession, the model came up with the following peak-to-trough performance estimates for different asset classes in the next crisis, according to the note.

A U.S. stock slide of about 20 percent.
A jump in U.S. corporate-bond yield premiums of about 1.15 percentage points.
A 35 percent tumble in energy prices and 29 percent slump in base metals.
A 2.79 percentage point widening in spreads on emerging-nation government debt.
A 48 percent slide in emerging-market stocks, and a 14.4 percent drop in emerging currencies.