---
CAM Investment Grade Weekly Insights
Spreads regained some ground this week and are looking to finish several basis points tighter.  The OAS on the Blomberg Barclays Corporate Index closed Thursday at 96 after closing the week prior at 98.  Treasuries were unusually volatile again, with the 10yr having a range of over 10 basis points during the week.  The FOMC played a large part in driving news flow during the week with a rate decision on Wednesday and an announcement on Friday that they would allow some bank regulatory exemptions to expire at month end.  On Wednesday, Chairman Powell repeated promises to hold the Fed Funds rate at a low level in an effort to keep the economic recovery moving in the right direction.  Additionally the Fed indicated that it would not budge if inflation breached its 2% target during the year, saying it would view pockets of rising prices as transitory in nature.  The 10yr Treasury is wrapped around 1.7% as we go to print on Friday afternoon, which is near the highest level of the year.  Through Thursday, the corporate index had posted a year-to-date total return of -5.47% and an excess return over the same time period of +0.35%.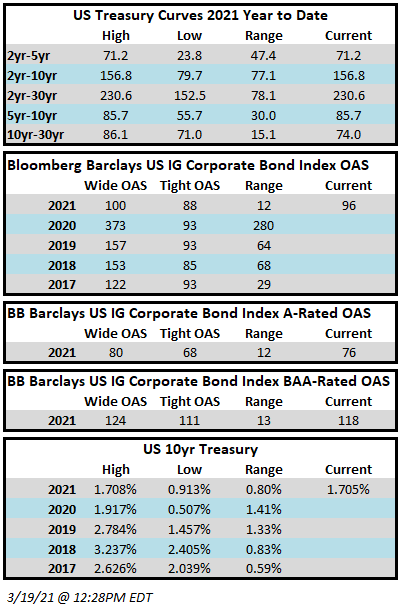 Issuance was strong again this week and will total about $30bln when it is all said and done.  Not even the opening day of the NCAA Basketball Tournament could stop things, as a couple of issuers are bringing new deals on Friday.  According to data compiled by Bloomberg, $383bln of new debt has been issued year-to-date, with a pace of +35% relative to last year.
Per data compiled by Wells Fargo, inflows into investment grade credit for the week of March 11-17 were +$3.6bln which brings the year-to-date total to +$103bln.