---
CAM Investment Grade Weekly Insights
Spreads widened this week in sympathy with equities.  The Bloomberg Barclays US Corporate Index closed on Thursday October 29 at 125 after closing the week prior at 123 while stocks are on track for their worst week since March.  Through Thursday, the corporate index posted a year-to-date total return of +6.59%.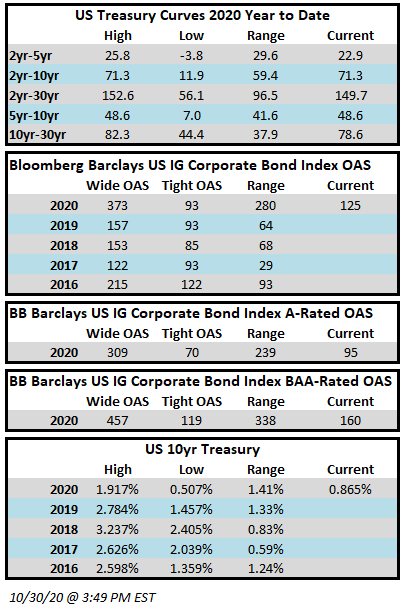 The high grade primary market was quiet amid earnings, with just over $20bln in new debt brought to market.  This brings the monthly total for October to $80bln, which is in-line with market expectations.  November could see a lighter new issue calendar due to rising virus counts and the associated volatility that could come with it, the election next week and the Thanksgiving holiday.
According to data compiled by Wells Fargo, inflows into investment grade credit for the week of October 22-28 were +$5.0bln which brings the year-to-date total to +$236bln.  This was the 30th consecutive week of inflows into the investment grade credit markets.